JUNE 22, 2017
China undertakes new high-speed railway in Russia
A MoU (Memorandum of Understanding) has been signed between China Railway Group and Ural Highway to build a high-speed railway connecting Yekaterinburg to Chelyabinsk, involving a total investment of $2.5 billion.
The flying distance from Chelyabinsk to Yekaterinburg is 195km (121 miles) and driving distance is 220km (137 miles) and takes currently five hours. With this new project, the high-speed rail link is expected to cut the time between two cities to approximately one hour and 10 mn as the train is expected to run at a speed of up to 250km per hour.
This huge project of 200km-long high speed rail line will certainly contribute to develop the region's economic and generate benefit to local people as it will be part of the high-speed transit corridor passing through the major capitals Berlin, Moscow, Astana and Beijing.
China had allowed for the first time in last April, a State-owned company to get fully involved in an overseas project in terms of design and construction in Indonesia and as the Chinese company's overseas business keeps expanding, China Railway Group has signed in 2016 overseas contracts worth a record 102.5 billion yuan ($15.04 billion), up 49.6 percent year-on-year.
In the first quarter of this year, the company has announced an amount of 15.58 billion yuan ($2.3 billion) for newly signed overseas contracts, which was up 131.8 percent from the same period last year. Also, the net profits had increased 15.32 percent year-on-year to 2.62 billion yuan ($380million).
JUNE 21, 2017
Two top global rail providers united in North America
An exclusive partnership has been announced by two major rail providers Louis Berger and Egis, to meet the project development to support world-class rail technology and design in North America.
During the American Public Transportation Association conference in Baltimore, the joint venture between Louis Berger-Egis had made its debut.
Both companies, Louis Berger and Egis have already been collaborating on mass transit and rail projects worldwide for more than a decade, and one of the key project is Doha Metro project in Qatar which worth $ 15.4 billion, involving 95 stations and 230 km (143 miles). The completion of this project is expected on 2026.
This exclusive partnership unites Egi's expertise in guided urban transportation and rail systems, automation, rolling stock, safety and equipment with Louis Berger's global experience leading civil and structural engineering design and program and construction management for rail systems around the world.
It is said that the amount of the investment to meet U.S. rail demand through 2035 is estimated nearly $200 billion.
JUNE 21, 2017
Liebherr, Strongest lattice boom crane in Switzerland
For the first time in Switzerland, the Liebherr LR1100 crawler crane with 1000 tonnes load capacity recognized as the strongest lattice boom crane, has been operating in Sankt Gallen.
A transport and heavy haulage Swiss contractor Emil Egger AG, has recently been supplied from the plant in Ehingen, the first crawler crane with the strongest load capacity of 1000 tonnes in its fleet after a long standing crane fleet which has only included mobile cranes.
The Swiss contractor has booked the LR 1100 for around six months to work on a major new construction project in Zurich. The machine ensures the task of assembling reinforced concrete supports with up to almost 60 tonnes and later façade components weighing 90 tonnes on the construction site.
The new unit features a specific innovation developed by Liebherr, the ballast system VarioTray, with the use of derrick ballast as the counterweight allowing lattice boom cranes to manage vastly higher load capacities. The derrick ballast is available in the form of suspended counterweight tray of a ballast wagon.
According to the family company Emil Egger AG, the LR1100 is primarily designed for infrastructure projects such as bridge building or for large construction assembly, but the crane will possibly be used abroad as well to erect wind turbines.
JUNE 29, 2017
Liebherr unveils the new piling and drilling rig LRB16
Liebherr has presented its new piling and drilling rig type LRB16, which is compact and providing high stability and various assistance systems to ensure precision.
The new LRB 16 designed to response to the diverse requirements of deep foundation work, this machine gets its name from the sledge's travel distance which is around 16m. With its compact design, the new unit can provide an operating weight of barely 48 t.
As the LRB 16 is equipped with an innovative hydraulic concepts which reduces engine power, the machine can reach with ease high performance while keeping fuel consumption low. More, the machine has a Liebherr diesel engine, only a mere 390 kW/523 hp and can meet with the currently valid emission regulations. The LRB16 has also a reduced engine speed of about 1,700 rpm.
Another innovative point, the new cabin design which provides a high operator comfort, the new LRB 16 can be easily transported in one piece including mounted counterweight, with only 43.5 t of transport weight.
Liebherr, with the LRB16 offers a very high performance all-round piling and drilling rig for diverse applications within the deep foundation sector.
Events
JUNE 22, 2017
Mott MacDonald, new office in Bogota to support economic growth
Mott MacDonald has announced an establishment of the new office in Bogota through public-private partnerships (PPPs).
As the Colombian government has a plan to invest nearly US$100 billion in transportation, water, energy, healthcare, education and urban infrastructure mostly through PPPs, the country therefore, becomes a key market for the infrastructure finance and advisory teams.
In association with Colombia since nearly 40 years, Mott MacDonald had realized various work such as Metro de Medellin, schools, two new highway and five airport masterplans. The company also supported since 2016, the development of the new El Dorado II international airport, involving 3.8km runway and 40,000 sq meter terminal which aims to handle eight million passengers per year. The completion is expected on 2022.
Mott MacDonald, with its global experience of successfully delivering advisory and infrastructure finance projects, has been named Global Technical Advisor of the year by IJ Global seven times in the last nine years
JULY 6, 2017
Volvo CE deals with SMT
Volvo CE has signed on July 4th a deal to divest its wholly owned British dealership to SMT, a long-term distribution partner in products and services.
The deal involves the sale including the distribution rights for Volvo-branded construction equipment machines, parts and after sales in Great Britain as well as Volvo CE Great Britain's headquarter in Duxford, Cambridgeshire, its nationwide operations and the transfer of all employees.
SMT is already an established Volvo Group distribution partner in disturbing Volvo CE products and services in the Netherlands, Belgium and Luxembourg as well as African nations, the company had revenues in excess of €350 million in 2016.
According to Volvo CE, SMT with its record of accomplishment in the construction equipment market, is the right strategic distribution partner to continue to grow and invest in this important European market in long-term.
JUNE 26, 2017
Volvo contribute to enhance a waste-to-energy facility
In Pennsylvania, Volvo excavators are undertaking to lay the foundation of a waste-to-energy facility to bring continued long-term stability to York County's municipal waste management infrastructure.
It is said that USA generates 230 million tones of municipal solid waste annually, and according to the U.S. Environmental Protection Agency (EPA), for every ton of waste processed at a waste-to-energy facility, emissions of approximately one ton of carbon dioxide equivalents (CO2e) are avoided.
Horst Excavating, awarded on the task of earthwork including demolition, erosion and sedimentations, underground utility work and stone and asphalt paving of a waste-to-energy facility, has to move more than 300,000 yd3 of material.
The company has chosen two Volvo's excavators the EC350E and the EC460 to operate in site work. The EC350E, fitted with 3.5 yd3 bucket providing consistent power and high breakout force to load the blasted rock, the EC460 powering a Genesis GH18NPK 8000 lb-ft hammer to chisel large chunks of limestone that frame the pit.
Horst is mining 30,000 yd3 of rock from the pit, excavating nearly five stories deep, Volvo excavators are working 24-hours a day, 365 days a year, and for this high quality and durable equipment, Horst has appealed to Volvo dealer, Highway Equipment & Supply to purchase the machines.
JULY 19, 2017
JCB increases its revenue in 2016
JCB has announced a growth of its revenue in 2016 by +12% worth €3.6 billion for 66,011 units sold.
The company published the profits of nearly 34%, representing €335.79 million compared to €245 million last year, and in 2015, 59,844 units were sold.
The company had realized a growth in the challenging global construction market which was decreased by 1% last year. Nevertheless, JCB can hold its commitments to achieve the strong performance thanks to the progression of some markets such as India, increased nearly 40%, and European markets which rose sharply with more than 10% last year.
JCB continues to undertake several encouraging prospects in infrastructure such as the HS2, Hinkley Point and Thames Tideway currently underway in England, from which the company could also take advantage to growth.
JUNE 22, 2017
Intermat Asean 2017: Success Story
Helen Whitman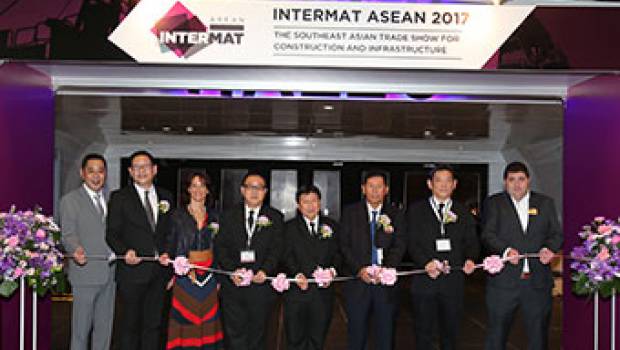 After three days of the very productive exhibition of Intermat Asean held in Bangkok, Thailand, the co-organizers Comexposium and Impact Exhibition are fully satisfied with the first inaugural edition and thank those involved.
As expected, more than 300 exhibiting brand and companies including the major player in construction and equipment industries have responded positively and showcased their latest machinery and equipment to 4.680 visitors from over 43 neighboring countries.
Intermat Asean has become a global meeting place for the industry, as 20% of the visitors were from outside Thailand including China, Cambodia, India, Japan, Korea, Malaysia, Myanmar, Singapore and Vietnam.
Isabelle Alfano, Construction Business Unit Director Comexposium Group stressed "Intermat Asean aims not only to be the local but the regional exhibition. Thailand, with a growth demand in construction activities particularly in infrastructure, railway and housing, the country can be the hub of all southeast Asian countries. Intermat helps exhibitors and visitors with business matching services, also bring contents in the seminar, and of course the live-demonstration outdoor which is the special highlight of the exhibition and one of the key point of the show".
The first result of Intermat Asean is very encouraging and promising, the goal is considered met. The co-organizers are very heartened to generate the general sense that had facilitated business and therefore met the industry's needs in Southeast Asia.
JUNE 26, 2017
The future of construction, a new house in only 3 days!
With Contour Crafting construction 3D printed method, houses can be printed within only 3 days!
It is said there will be 11 billion people living on Earth by the year 2100, half of the world's population currently lives in the cities and by 2050 it will be closer to 75 percent. So, the construction industry has to be built faster and conventional construction methods may not be up to the challenge.
Dr. Behrokh Khoshnevis, the creator of Contour Crafting, one of the first methods of large-scale 3D printing involving the techniques of the use of large but lightweight robotic 3D printers capable of rapidly putting down layers of building material to create entire buildings in a matter of days or even hours, directly at the construction site.
To realize this project in a large scale, Contour Crafting has asked Doka Ventures to take 30% of state in the company. Nevertheless, Dr. Khoshnevis will remain the majority shareholder, President and CEO.
The first generation of the Contour Crafting 3D printers will have a reach of 24 to 40 feet depending on the model, and a user-selectable length that could be larger. Also very lightweight for construction machines, at less than 800 pounds, the printers are also very simple to take apart and put back together. The build can proceed with only one or two certified operators there to monitor it.
The robotic 3D printers will be built in a facility in EL Segundo.
JULY 5, 2017
Second factory for Kässbohrer in Germany
Kässbohrer inaugurates today the second plant in Germany with 350 guests including solution partners, clients and member of the press.
Kässbohrer supplies already the largest product range of semi-trailers in Europe, and continues to strengthen its position with an addition of 4 new vehicles : K.SKS tipper, K.SCP paper roll curtainsider, K. SHFT tank container chassis and the K. SCA air cargo semi-trailer.
All of these machines are designed, engineered and manufacturer to the highest quality in order to meet the requirements of Kässbohrer's valued clients.
The new plant is based in a strategically location near Ulm, 200 km distance from Strasbourg, the northeastern part of France where the company holds 41 French outlets and after sales services. This would ease the company to access to France and spread the market shares in this area.
JULY 18, 2017
Volvo produces its 75,000th articulated hauler
Helen Whitman
The 75,000th of Volvo's articulated hauler was rolled off the production line at the factory in Braas, Sweden.
After half a century that the concept exists, Volvo CE claims that almost 50,000 units still continue to operate around the world. The 75,000
th
unit was part of the new generation A45G full suspension models and particularly dedicated to Norwegian customer Leonhard Nilsen & Sonner.
The models had progressed in size and sophistication since 51 years, the first model was built in 1966 and could be fitted into the haul body of the A60H, Volvo's 55 tonne articulated hauler.
Volvo CE emphasizes on the usefulness and durability of their articulated haulers, as many of their units are still operating nowadays and the company still hold the leadership of the market.
JUNE 23, 2017
Fassi, new cranes in the medium duty lifting range
Fassi, Italian manufacturer has unveiled two new XE models F345A xe-dynamic and F345RA xe-dynamic cranes.
To enhance its XE range, Fassi has presented the two new models belonging to the HC1 HD5 S2 class (if fitted on trucks) which provide a maximum lifting capacity of 33.4 tonne/meter, with a maximum hydraulic horizontal outreach of 20.5 m. The outreach can be increased up to 26.7 m when combined with six telescopic booms along with the L214 hydraulic extension. In addition, the new units were designed to perfectly fit on 3-axle vehicles thanks to its weight and dimensions.
The new F345A model is a rack and pinion rotation crane while the F345RA offers continuous rotation on a slew ring. Both are supplied as standard, together with the tried and tested FX500 control system and the D850 hydraulic distributor bank, Fassi RCH/RCS radio controls and FSC-S or H stability controls.
The new cranes are available in various versions with a maximum of up to eight hydraulic booms in the standard configuration, and in three versions with a short secondary arm.
JUNE 23, 2017
Terex: new order of five Demag cranes
JTC, Jassim Transport & Stevedoring Co has placed an order for four AC 100-4L and one AC 250-6 all terrain cranes as part of the expansion of its fleet to support the growing demand.
Kuwait-based, JTC one the leading providers of Ports Management, Contract Logistics, Equipment Leasing and Power Rental services, had chosen the new 4-axle Demag AC 100-4L, the most compact chassis in its class and the AC 250-6, the longest main boom length (80 meters) in its capacity class to support the various infrastructure development projects in the Oil & Gas and Construction Industry.
The new Demag all terrain crane extremely versatile will lift in less time than any similar sized units, and allowing thus JTC to do a better job by offering a tailor-made services and solutions for customers.
The five Demag all terrain cranes will be integrated to JTC's current fleet of Terex and Demag cranes that includes approximately 20 different models.