JUNE 28, 2017
Cat Excavator and hero robots on the big screen
The new movie directed by Michel Bay "Transformers: The last knight" has elected a Cat Excavator to make appearance beside the team of hero robots in the highly anticipated film.
The Cat Excavator will appear among the vehicles hiding in an auto salvage yard along with Cade Yeager (Mark Wahlberg) and a group of the heroic Autobots. This partnership is perfectly in line for both companies as the attributes associates are strength, loyalty and protection.
Kurt Norris, Global Marketing Manager of Caterpillar stated "Through the integration of Cat® Connect technologies, such as LINK, GRADE, PAYLOAD and DETECT, Caterpillar is changing the way the construction industry can increase productivity, achieve efficiency gains and protect the safety of workers on the jobsite. We have entered the Age of Smart Iron and I can think of no better way to exemplify this paradigm shift than to join forces with the iconic Transformers movie franchise in the film 'Transformers: The Last Knight'."
JULY 18, 2017
New Safety Helmets in construction
According to government researchers from 2003 to 2010, there is 2,210 fatal traumatic brain injuries (TBI) that had been occurred in the construction industry representing 2.6 % per 100 000 full-time equivalent workers.
As a result, Construction firms are developing new safety helmets with better protection from falls and to curb fatal injuries preventing any impact of being transferred directly to the skull.
To reinforce the security of the workers, Construction contractors were increasingly adapting safety hat designs on the base of the model used generally in mountain climbing and other sports.
Occupational Safety and Health Administration rule (
29 C.F.R. 1926.100
) stipulates, "Employees working in areas where there is a possible danger of head injury from impact, or from falling or flying objects, or from electrical shock and burns, shall be protected by protective helmets." The hats must meet or exceed American National Standards Institute (ANSI) Z89.1-2009.
JULY 3, 2017
Atlas Copco : New appointment in Compressor Technique business area
Atlas Copco, a world-leading provider of sustainable productivity solutions and based in Stockholm, has appointed Vagner Rego as President of the Compressor Technique business area and member of Group Management, effective August 1, 2017.
Vagner Rego, currently President of the service division within Compressor Technique, has a solid experience en several different roles. Brazilian citizen, Vagner Rego has joined Atlas Copco in Brazil as a trainee engineer in 1996, and in 2006, he was appointed Business Line Manager for Compressor Technique Service Division , then became Vice President Marketing and Sales in 2010. He also acted as General Manager for Construction Technique's Customer Center in Brazil before being appointed at his current position.
Vagner Rego was born in 1972 and holds a degree in mechanical engineering from Mackenzie University and an MBA from Ibmec Business School in Brazil.
Vagner Rego succeeds Nico Delvaux, who will leave Atlas Copco.
JUNE 22, 2017
Intermat Asean 2017: Success Story
After three days of the very productive exhibition of Intermat Asean held in Bangkok, Thailand, the co-organizers Comexposium and Impact Exhibition are fully satisfied with the first inaugural edition and thank those involved.
As expected, more than 300 exhibiting brand and companies including the major player in construction and equipment industries have responded positively and showcased their latest machinery and equipment to 4.680 visitors from over 43 neighboring countries.
Intermat Asean has become a global meeting place for the industry, as 20% of the visitors were from outside Thailand including China, Cambodia, India, Japan, Korea, Malaysia, Myanmar, Singapore and Vietnam.
Isabelle Alfano, Construction Business Unit Director Comexposium Group stressed "Intermat Asean aims not only to be the local but the regional exhibition. Thailand, with a growth demand in construction activities particularly in infrastructure, railway and housing, the country can be the hub of all southeast Asian countries. Intermat helps exhibitors and visitors with business matching services, also bring contents in the seminar, and of course the live-demonstration outdoor which is the special highlight of the exhibition and one of the key point of the show".
The first result of Intermat Asean is very encouraging and promising, the goal is considered met. The co-organizers are very heartened to generate the general sense that had facilitated business and therefore met the industry's needs in Southeast Asia.
Events
AUGUST 31, 2017
Colas acquires Miller McAsphalt in Canada
Colas, the world leader in road construction has announced a takeover of the Canadian group, Miller McAsphalt, a major Ontario top asphalt expert, offering asphalt products and services.
The top Canadian company Miller McAsphalt displays currently an annual turnover of nearly C$ 1.3 billion and includes 3,300 employees.
This acquisition will allow Colas to further growth its expansion strategy in the region of North America where high demand in construction and maintenance of transport infrastructures is growing steadily.
Colas Group can now ensure a greater presence in Ontario with a strong significant distribution network in Canada.
The completion of the project is expected in early 2018. JUNE 21, 2017
Liebherr, Strongest lattice boom crane in Switzerland
For the first time in Switzerland, the Liebherr LR1100 crawler crane with 1000 tonnes load capacity recognized as the strongest lattice boom crane, has been operating in Sankt Gallen.
A transport and heavy haulage Swiss contractor Emil Egger AG, has recently been supplied from the plant in Ehingen, the first crawler crane with the strongest load capacity of 1000 tonnes in its fleet after a long standing crane fleet which has only included mobile cranes.
The Swiss contractor has booked the LR 1100 for around six months to work on a major new construction project in Zurich. The machine ensures the task of assembling reinforced concrete supports with up to almost 60 tonnes and later façade components weighing 90 tonnes on the construction site.
The new unit features a specific innovation developed by Liebherr, the ballast system VarioTray, with the use of derrick ballast as the counterweight allowing lattice boom cranes to manage vastly higher load capacities. The derrick ballast is available in the form of suspended counterweight tray of a ballast wagon.
According to the family company Emil Egger AG, the LR1100 is primarily designed for infrastructure projects such as bridge building or for large construction assembly, but the crane will possibly be used abroad as well to erect wind turbines.
JUNE 22, 2017
Mott MacDonald, new office in Bogota to support economic growth
Mott MacDonald has announced an establishment of the new office in Bogota through public-private partnerships (PPPs).
As the Colombian government has a plan to invest nearly US$100 billion in transportation, water, energy, healthcare, education and urban infrastructure mostly through PPPs, the country therefore, becomes a key market for the infrastructure finance and advisory teams.
In association with Colombia since nearly 40 years, Mott MacDonald had realized various work such as Metro de Medellin, schools, two new highway and five airport masterplans. The company also supported since 2016, the development of the new El Dorado II international airport, involving 3.8km runway and 40,000 sq meter terminal which aims to handle eight million passengers per year. The completion is expected on 2022.
Mott MacDonald, with its global experience of successfully delivering advisory and infrastructure finance projects, has been named Global Technical Advisor of the year by IJ Global seven times in the last nine years
JUNE 21, 2017
Terex Trucks and Porter Group: New core Strength
Terex Trucks has elected Porter Group as official distributor to support and supply its range of articulated dump trucks in Australia and New Zealand.
Porter Group has currently a network of 40 branches and headquartered in Hamilton, New Zealand, the company is being recognized as the largest dealer of rental and sales equipment for construction and associated industries in the country.
This partnership will enable Porter Group to supply the range of Terex Generation 10 including TA400 and TA300 over Oceania, and will provide to Terex Trucks the occasion to strengthen its footprint in the region.
As well as in its articulated hauler range, Terex Trucks makes three models with payloads from 25-38 tonnes and engine power outputs from 311-444 hp. Of the ADT units to be distributed by Porter Group, the highest specification model is the Gen 10 TA400 with magnetic suction filters which improve the cleanliness of the hydraulic oil and reduce thus wear as well a downtime.
Porter Group will not only provide Terex's machines, but the company will either supply spare parts, servicing, repairs, transport haulage, hire of cranes and access equipment and particularly financing options over Oceania's region.
JULY 20, 2017
Volvo CE : Strong increase in net sales in Q2 2017
Helen Whitman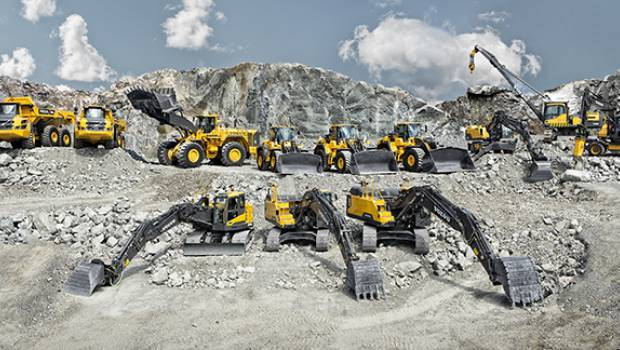 Volvo CE announced a rise in sales and earnings in Q2 2017. Sales were up by more than a third, rising 36% compared to the same period in the previous year.
Due to the transformation program and the involvement of the company in key markets, Volvo CE has realized an absolute performance with significant improvements amounting SEK 18,511M against SEK 13,360M in Q2 2016.
Operating income was also raised in the same period to 2,460M equating to an operating margin of 13.3% representing more than three times against SEK 810M (5.9%) reported in 2016.
Volvo CE also displayed an increase by 54% of order intake in Q2 2017, with an up of deliveries nearly 49% (17,472 machines). The strong demand comes particularly from China, with a rise of 221% driven by demand for SDLG wheel loaders and SDLG and Volvo Excavators.
JULY 18, 2017
Volvo produces its 75,000th articulated hauler
The 75,000th of Volvo's articulated hauler was rolled off the production line at the factory in Braas, Sweden.
After half a century that the concept exists, Volvo CE claims that almost 50,000 units still continue to operate around the world. The 75,000
th
unit was part of the new generation A45G full suspension models and particularly dedicated to Norwegian customer Leonhard Nilsen & Sonner.
The models had progressed in size and sophistication since 51 years, the first model was built in 1966 and could be fitted into the haul body of the A60H, Volvo's 55 tonne articulated hauler.
Volvo CE emphasizes on the usefulness and durability of their articulated haulers, as many of their units are still operating nowadays and the company still hold the leadership of the market.
AUGUST 31, 2017
UMW Holdings inked a LOI with Komatsu to establish a joint venture
UMW Holdings Bhd based in Kuala Lumpur, has inked a letter of Intention (LOI) with Komatsu Ltd. to form a strategic partnership for heavy equipment.
The LOI intends to expand market penetration of Komatsu's products in Malaysia, Singapore, Myanmar and Papua New Guinea, as UMW Group currently holds exclusive franchise for the distribution of Komatsu heavy equipment in this area.
Komatsu manufactures construction and mining equipment, utilities and forest machines.
"This joint venture is to further strengthen Komatsu's products and boost sales by capturing new growth segments with the introduction of new products to meet customer demand" it said.
UMW Corp, a wholly-owned subsidiary of UMW Holdings, and Komatsu intend to hold 74% and 26% respectively of the issued and paid up share capital of the joint venture.
JULY 6, 2017
Volvo CE deals with SMT
Helen Whitman
Volvo CE has signed on July 4th a deal to divest its wholly owned British dealership to SMT, a long-term distribution partner in products and services.
The deal involves the sale including the distribution rights for Volvo-branded construction equipment machines, parts and after sales in Great Britain as well as Volvo CE Great Britain's headquarter in Duxford, Cambridgeshire, its nationwide operations and the transfer of all employees.
SMT is already an established Volvo Group distribution partner in disturbing Volvo CE products and services in the Netherlands, Belgium and Luxembourg as well as African nations, the company had revenues in excess of €350 million in 2016.
According to Volvo CE, SMT with its record of accomplishment in the construction equipment market, is the right strategic distribution partner to continue to grow and invest in this important European market in long-term.
JUNE 23, 2017
Fassi, new cranes in the medium duty lifting range
Fassi, Italian manufacturer has unveiled two new XE models F345A xe-dynamic and F345RA xe-dynamic cranes.
To enhance its XE range, Fassi has presented the two new models belonging to the HC1 HD5 S2 class (if fitted on trucks) which provide a maximum lifting capacity of 33.4 tonne/meter, with a maximum hydraulic horizontal outreach of 20.5 m. The outreach can be increased up to 26.7 m when combined with six telescopic booms along with the L214 hydraulic extension. In addition, the new units were designed to perfectly fit on 3-axle vehicles thanks to its weight and dimensions.
The new F345A model is a rack and pinion rotation crane while the F345RA offers continuous rotation on a slew ring. Both are supplied as standard, together with the tried and tested FX500 control system and the D850 hydraulic distributor bank, Fassi RCH/RCS radio controls and FSC-S or H stability controls.
The new cranes are available in various versions with a maximum of up to eight hydraulic booms in the standard configuration, and in three versions with a short secondary arm.
JUNE 26, 2017
The future of construction, a new house in only 3 days!
With Contour Crafting construction 3D printed method, houses can be printed within only 3 days!
It is said there will be 11 billion people living on Earth by the year 2100, half of the world's population currently lives in the cities and by 2050 it will be closer to 75 percent. So, the construction industry has to be built faster and conventional construction methods may not be up to the challenge.
Dr. Behrokh Khoshnevis, the creator of Contour Crafting, one of the first methods of large-scale 3D printing involving the techniques of the use of large but lightweight robotic 3D printers capable of rapidly putting down layers of building material to create entire buildings in a matter of days or even hours, directly at the construction site.
To realize this project in a large scale, Contour Crafting has asked Doka Ventures to take 30% of state in the company. Nevertheless, Dr. Khoshnevis will remain the majority shareholder, President and CEO.
The first generation of the Contour Crafting 3D printers will have a reach of 24 to 40 feet depending on the model, and a user-selectable length that could be larger. Also very lightweight for construction machines, at less than 800 pounds, the printers are also very simple to take apart and put back together. The build can proceed with only one or two certified operators there to monitor it.
The robotic 3D printers will be built in a facility in EL Segundo.