JUNE 13, 2017
Microsoft Dynamics CRM targets construction sector
Construction site managers often oversee many aspects of a construction project. To have a clear strategic vision of the business, various information must be correlated and centralized and the solution seems to be CRM (Customer Relationship Management).
With already many companies touting their CRM products (SugarCRM, ProsperWorks, Pipedrive, HubSpot CRM, Salesforce CRM, Insightly, and Zoho CRM) Microsoft Dynamics CRM is trying a more industry-oriented approach.
Microsoft Dynamics CRM for contruction is offering the construction industry with various choice of desktops, mobile devices, an online or on-premise server. The product is competely integrated with their Office Suite 5Excel and Word) with an add-in for Microsoft Outlook.
According to a Microsoft's spokesperson, the key benefits of CRM for construction are:
- The ability to keep track of project bids and follow up activities
- A real-time access to project-related documents
- A transparent visibility and scheduling for available resources
- A streamlined supply chain and improved supplier relationships
- The ability to track time and labor spent on tasks and goals
- A real-time access to business data and analysis
- The ability to keep track of inbound and outbound leads, and run targeted campaigns
- The ability to meet clients where they are on social media and to take advantage of immediate opportunities
- And the ability to have sales staff follow up with prospects and clients in a timely and effective manner
JUNE 8, 2017
Case CE unveils new precision technologies and telematics at Intermat ASEAN
The global construction equipment company showcases a number of innovative machine operating solutions that are available for the first time in the ASEAN market.
Among the latest technologies on display at Intermat ASEAN, Case Construction Equipment features the excavator and motor grader machine control systems, in partnership with the leader Leica Geosystems, the next generation weigh loading technology for wheel loaders and the telematics system of SiteWatch.
Head of Marketing for CASE CE in South East Asia and Japan, Danilo Catalucci said: "CASE works with its customers to deliver tailor made solutions for their job sites, and our new technological solutions aims at further securing they can meet their projects deadlines and increase productivity. We look forward to welcoming new and existing customers to our stand inside the exhibition and to our equipment on the machinery demonstration areas."
Case provides a suite of SiteControl machine control solutions for excavators and motor graders that use Leica Geosystems' iCON construction software and the iXE2 2D machine guidance system. This technology enables smart, customizable machine positioning systems for road construction and civil engineering projects. Moreover, SiteControl allows to reduce time and cost on site while enhance accuracy and flexibility for the contractor.
The Loup Electronics weigh loading system used for the Case wheel loader range allows data collection through SD card or USB stick and provides the operator with live, load on the go weight information.
The SiteWatch telematics connect directly to the machine's CAN-bus electronic control system to monitor a wide range of operating data. The technology provides remote monitoring of equipment to boost productivity and reduce downtime. Besides, with this system, the scheduling for regular maintenance improved and fleet managers are provided with fuel and operating use.
JUNE 9, 2017
New Soosan hydraulic drill on display at Intermat Asean
Soosan Heavy Industries, the Korean manufacturer is exhibiting its last model of hammer drill rig at the trade show of Bangkok.
The SDT 11M model is among the Soosan's drilling equipment exhibited at Intermat Asean.
It is a drill rig which has been designed to provide best performance for surface blasting in the quarry and civil work environments.
The machine includes an anti-jamming system, smooth drilling system and damping system on rock drill.
It features besides undercarriage, feed, booms and power unit that are powered by a water cooled Cummins diesel engine.
The SDT 11 M drill rig is also equipped with safe and comfortable ROPS & FOPS cabin which offers wide visibility, simple rod changing system and easy operation systems by means of joysticks.
Many options are proposed with the machine such as a pre-separator (cyclone), CAT walk and CD/MP3 player.
JUNE 5, 2017
Terex Trucks has new Global Sales Director
On June 5, the established global manufacturer has officially unveiled the hiring of Guy Wilson as Global Sales Director.
Prior to his position at Terex Trucks, Guy Wilson was Managing Director for Volvo Construction Equipment Italia and before CFO and Deputy Managing Director at Volvo CE's UK dealership.
Guy Wilson is now responsible for leading Terex Trucks' global sales team. He has to manage and provide strategic direction to the sales directors, the regional sales teams and the Motherwell-based central key accounts resource.
Director and General Manager of Terex Trucks, Paul Douglas, commented: "We are delighted that Guy is bringing his extensive management and leadership expertise to the global sales team.
"His strong background in national distribution and dealer management, as well as his roles at Volvo CE have equipped him to understand what it takes to succeed through a channel network. I'm sure our dealers will benefit hugely from this appointment."
For his new function, Guy Wilson will be based in Motherwell, Scotland.
Events
JUNE 8, 2017
Case showcases new machines at Intermat ASEAN
At the trade show Intermat ASEAN, held in Bangkok, Case Construction Equipment is presenting its last models among which the compactor 1107 EXD, the wheel loader 1021F and the backoe loader 580T.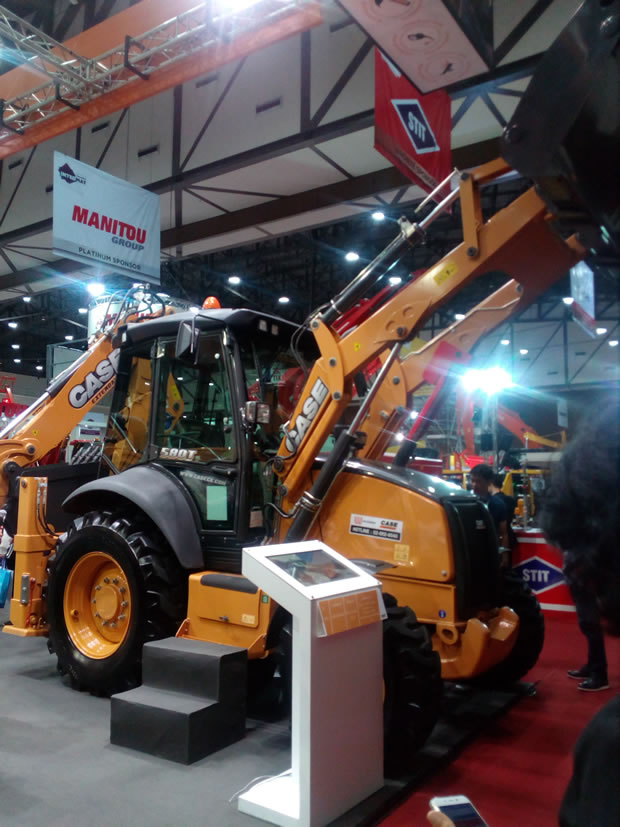 Backoe loader 580T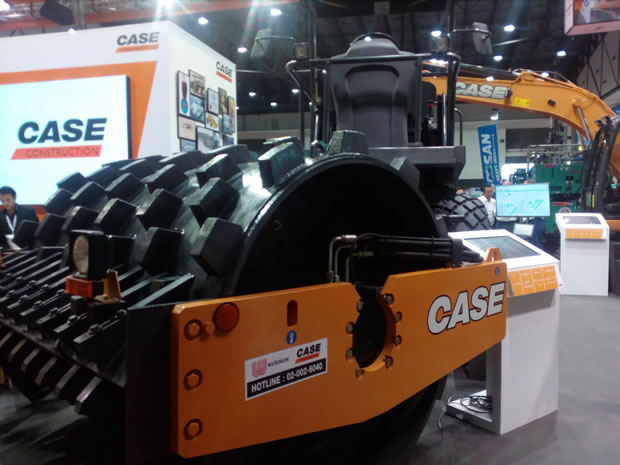 Compactor 1107 EXD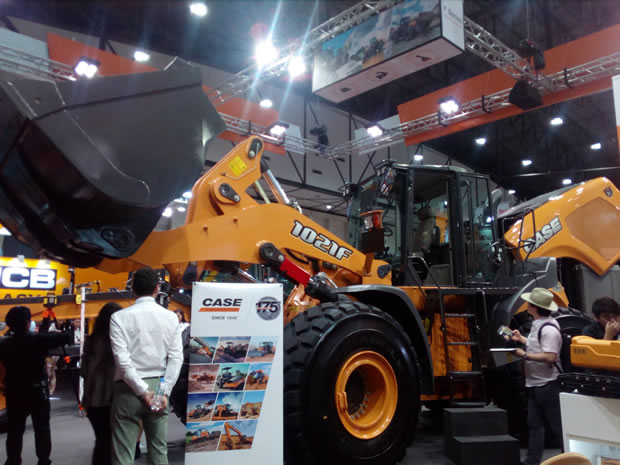 Wheel loader 1021F
JUNE 12, 2017
Manitou Group takes majority stake in LiftRite Hire & Sales
Manitou Group has announced an agreement to take a majority stake in the LiftRite based in Perth, the historical and exclusive distributor for Manitou and Gehl products in Western Australia.
Founded in 1983 by George Hogg, Mark Manning and Ted Hirschfeld, LiftRite Hire & Sales is a leading provider of products manufactured by Manitou, Gehl, Kobelco and Kalmar. The products are rough terrain forklift trucks, hydraulic hammers, skid steer and track loaders. The company generates 12 millions in 2016 and employs more than 65 sales.
The Manitou Group is acquiring 55% of LiftRite Hire & Sales shares with a purchasing option, which assigns Manitou to increase its stakes up to 96% in three years from now. The transaction is expected to be completed before August 1
st
.
"By taking over a stake in our historical dealer in Western Australia, we reinforce Manitou's position in the mining sector, as we did several years ago in South Africa. In parallel to this long term strategic approach, we will continue to reinforce and develop all brands carried by LiftRite in all the markets served in this region" said Michel Denis, Manitou Group President and CEO.
JUNE 8, 2017
Suez wins two waste collection contracts in Australia
The global company that delivers wastewater treatment services has been awarded contracts to be in charge of waste collection and recovery in the city of Brisbane and in Parramatta, the Sydney Metropolitan area.
Suez has signed with Brisbane City Council a €600M contract to manage the renewal of the general, recycling and green waste collection in the Australian city for sixteen years.
150 Suez' new collection vehicles, featuring innovative on-board computing technology, are to be provided to allow the Council to access detailed service information on the services provided to residents and the real-time tracking of vehicles and collections.
More than 125,000 waste collection services are to be realized every day.
The contract takes effect on 1
st
July 2018.
The second seven-year contract commits Suez to be in charge of the collection of general waste, recycling garden organics and hard waste of Parramatta's 230,000 residents.
The company is also to provide thirty-three vehicles equipped with on-board computing system to give access to detailed information in real-time.
Besides, Suez is to process and recover garden organic waste of the Sydney's suburb into standardized compost in order to allow the municipality to reach 70% diversion of waste from landfill by 2018.
Suez Group Deputy Chief Executive Officer in charge of the International Division, Marie-Ange Debon commented: "We are proud to support the city of Brisbane and Parramatta in their circular economy challenges. Our teams will provide innovative and efficient collection and recovery services to support the growth of two of the major cities in Australia."
JUNE 19, 2017
Railway deal in Mozambique between Portuguese and Chinese
The project to build 500 km of railway which will connect the Moatize coal mining area near the Malawi Border with the port of Macuse has been the subject of a contract of a consortium made up of Mota-Engil of Portugal and China National Complete Engineering.
The new project worth $1.4 billion, will replace the existing railway of Sena (660 km) currently running to the port of Beira. As part of the increasing demand in coal and minerals in the Moatize area, the production of open cast coal has increased from 3.7 million tonne in 2012 the first year of operation to 5.5 million in 2016.
The consortium was chosen by Thai Moçambique Logistica (TML) out of a list of seven, the signing had been expected since March, and the finalization of the deal was announced by Mota-Engils with the Portuguese Securities Market Commission on last June 13
th
.
The project aims to start in 2018 and will take 44 months to complete, and it might take longer if the extension of 120 km could be envisaged in order to connect to more coal deposits.
JUNE 19, 2017
Volvo rotating pipelayers operate in Asia Minor
Helen Whitman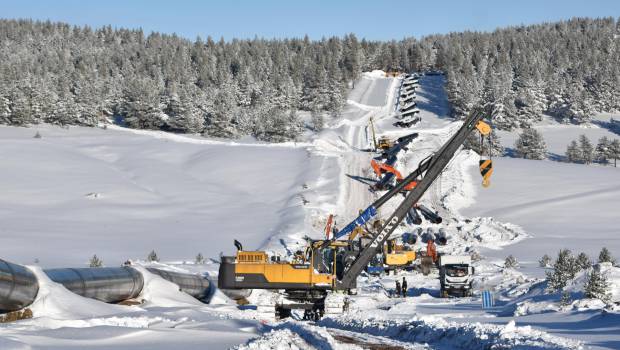 The project to bring Caspian gas from Azerbaijan through Turkey and onwards to Europe has been undertaken by Fernas, the Turkish pipeline contractor.
Fernas has chosen Volvo PL4809D rotating pipelayers to operate on the Trans Anatolian Natural Gas Pipeline (Tanap) in the field of Shah Deniz II in Azerbaijan, the world's longest ongoing pipeline. Tanap will transport gas over a distance of 1,850 km (1,150 mi) to Turtkey's western border with the EU and should supply 16 billion cubic meters of gas per year of which 6 billion cubic meters will be delivered to Turkey.
The project is being constructed in three lots, and Fernas was awarded to construction contract for the Lot 1. The company will use 56 in. diameter pipe and the pipeline will run for 375 km (233 mi). An estimated of 150,000 pipes tubes will be required for this project and the budget worth US$ 10 billion.
According to Fernas, the company is using for the Lot 1, five Volvo PL4809D pipelayers due to its specific technical data. The Volvo's unique 360° upper structure swing capacity allowing the boom to be positioned uphill enabling the load to be kept ahead of the machine, aiding stability and controllability. The units are also specified with a 96 tonne tipping capacity or 102 tonnes with the additional counterweight.
Fernas and its operators will continue to be supported through this huge project by using Volvo Equipment, not only the Volvo's pipelayers were used but also the PL4611 pipelayers with their 110 tonne tipping capacity.
JUNE 15, 2017
Real revolution towards sustainable drip irrigation
Toro in partnership with Revolution Plastics, has announced that its award-winning drip irrigation recycling service will now offer expanded service capabilities in California's Central Coast Region.
Toro a leading worldwide provider of innovative solutions for the outdoor environment, has ongoing commitment to help farmers maximize production with efficient, sustainable drip irrigation practices, has partnered with Revolution Plastics a national leader in agricultural plastic recycling with operations in Arkansas, Wisconsin and Texas, and now a facility in Camarillo to better serve California's coastal growers.
Farmers need drip irrigation to help them to produce more with fewer resources, but also recognizes that at the end of its lifecycle, drip irrigation becomes plastic that has to be recycled.
Toro's Drip irrigation Recycling Service has recently won nationwide recognition at the Irrigation Association's annual convention in Las Vegas, in the category of 2016 New Product Contest – Specialty Agriculture.
The recycled plastic were used to make Ecologo plastic can liners and other agriculture and construction sheeting rather than shipping recycled resins overseas, this solution creates local jobs, reduces the need for virgin resins and resulted in a sustainable business that has provided superior agricultural recycling services for over 20 years.
JUNE 13, 2017
US increasing use of P3s in transportation projects
The Arizona Department of Transportation has announced that the public-private partnership (P3) will be delivering the Phoenix-area Loop 2002 three years ahead of schedule.
It will be the first time a P3 (made up in this case of Fluor Enterprises, Granite Construction, Ames Construction and WSP) is used for a highway project in Arizona.
In doing so, Phoenix, AZ, is following the trend led by Kansas City, MO, and Los Angeles County to take a new look at unsolicited proposals coming from P3s, proposals that often include names like AECOM, Skanska USA, Parsons Transportation Group among others.
Organizations like the American Road & Transportation Builders Association estimate that P3s will play a larger role in future projects, and might be a key component of the present administration's $1 trillion infrastructure plan.
JUNE 19, 2017
No more rail for the train?
Grace GALANTE
The first railless train in the world has been unveiled in Zhuzhou, China. With three carriages and 30 meter long, the first railless train runs on rubber tires and can move a speed of 70 km/h and can carry up to 300 passengers.
This railless train is also powered by electricity and can travel over 40 km per full charge and as it is equipped with sensors, the bullet train can read the dimensions of roads and plan its own route.
This new technology called the ART, Autonomous Rail Rapid Transit was developed by CRRC Zhuzhou Institute. As the new system is too expensive for medium-sized and small cities, only the ART in Zhuzhou city in Hunan province will be built through downtown.
The construction work of 6.5 km ART line will start in Zhuzhou in 2018.
JUNE 5, 2017
Biggest African wind farm to be built in Ghana
The Lekela Power joint venture comprising Mainstream Renewable Power and the investor, Actis, is developing the 225MW Ayitepa wind project in the Ningo-Prampram district.
The wind facility is to operate for 25 years with the objective to enhance the electricity supply deficit of Ghana.
Seventy-five turbines rated between 2.75MW and 3.5MW are to compose the farm that is to be constructed in two phases.
The first phase will bring 150MW capacity to the Ayitepa plant while the other phase will add 75MW.
The wind farm is to be situated in the Ningo-Prampram district, 60 kilometers east of Accra city.
It is to supply annually around 60,000 households in electricity.
A new transmission substation is to be installed in the facility to transfer the power to Ghana's National Interconnected Transmission Grid (NITS)
Construction work is to start in late-2017. Sixteen months are required to complete the project that is to generate first power in 2018.
More than five hundreds employments are to be created during the construction phase and fifty during operations.
When completed, the wind farm is to stand as the first facility of this type in Ghana and the biggest of Africa.
The wind project costs $525M.
JUNE 15, 2017
enLight addresses Air quality Challenge
The British company enLight based at Norwich, has announced during the National Clean Air Day, the launch of its new Smart Cities Pilot Kit, to address air quality.
The Smart Cities Pilot Kit had been designed to monitor air quality, noise levels, localized flooding and microclimate levels for local authorities and councils. Combined with an enLight lighting upgrade with a selection of enSense sensors, the kit enables local authorities to try out new smart city data collection technologies and use then this data to build a business case for a larger deployment.
It is recalled that levels of nitrogen dioxide (NO2) emitted mostly by diesel vehicles has exceeded the limits set by regulation in almost 90% of urban areas in the United Kingdom since 2010 and toxic fumes are estimated to cause 23,500 early deaths a year. The inhalation of polluted air can pose significant health threats to low birth weight and premature births and that the costs to society of air pollution are similar to those caused by obesity and smoking.
With such worrying statistics, enLight stressed that air quality is now a key priority for communities and the company is delighted to be associated to support the goal for cleaners cities by working with councils to help them to better understand their environment.