JUNE 9, 2017
JCB unveils three new machines at Intermat ASEAN
At the ongoing trade show, the global manufacturer of construction equipment is showcasing its last models comprising, the JS305 tracked excavator, the JCB116 Soil Compactor and the JCB 51R compact excavator.
At Intermat ASEAN held in Bangkok, three new JCB's machines are on display.
The JS305 tracked excavator features simple mechanics, strong design and tough parts. It has been designed to be more productive and to operate on a wide range of construction projects in an equally wide range of environments.
The JCB116 Soil Compactor is the second new machine presented by JCB at the show. It features an updated design and is particularly efficient to realize better compaction in less passes. It also provides customers with fuel savings of up to 15%.
The third unveiled model is the JCB 51R compact excavator which is perfectly recommended for highway construction. It offers a winning combination of manoeuvrability, agility and lift performance. It also contributes to good value for money.
Tom Cornell, Managing Director, JCB Southeast Asia, commented: "Thailand is our number one market in Southeast Asia and we are seeing a sharp increase in sales here. As far as we are concerned the exhibits we are bringing to INTERMAT deliver the perfect match for our ambitions in Southeast Asia. Our in-depth knowledge of the sector and unique market insights means that we can provide JCB customers in the region with superior products which fit their needs and make things easier for them."
Others JCB's existing world-class range of machines are also on display at Intermat ASEAN such as the 3CX backhoe loader and the 560-80 Loadall telescopic handler.
JUNE 19, 2017
Volvo rotating pipelayers operate in Asia Minor
The project to bring Caspian gas from Azerbaijan through Turkey and onwards to Europe has been undertaken by Fernas, the Turkish pipeline contractor.
Fernas has chosen Volvo PL4809D rotating pipelayers to operate on the Trans Anatolian Natural Gas Pipeline (Tanap) in the field of Shah Deniz II in Azerbaijan, the world's longest ongoing pipeline. Tanap will transport gas over a distance of 1,850 km (1,150 mi) to Turtkey's western border with the EU and should supply 16 billion cubic meters of gas per year of which 6 billion cubic meters will be delivered to Turkey.
The project is being constructed in three lots, and Fernas was awarded to construction contract for the Lot 1. The company will use 56 in. diameter pipe and the pipeline will run for 375 km (233 mi). An estimated of 150,000 pipes tubes will be required for this project and the budget worth US$ 10 billion.
According to Fernas, the company is using for the Lot 1, five Volvo PL4809D pipelayers due to its specific technical data. The Volvo's unique 360° upper structure swing capacity allowing the boom to be positioned uphill enabling the load to be kept ahead of the machine, aiding stability and controllability. The units are also specified with a 96 tonne tipping capacity or 102 tonnes with the additional counterweight.
Fernas and its operators will continue to be supported through this huge project by using Volvo Equipment, not only the Volvo's pipelayers were used but also the PL4611 pipelayers with their 110 tonne tipping capacity.
JUNE 19, 2017
Railway deal in Mozambique between Portuguese and Chinese
The project to build 500 km of railway which will connect the Moatize coal mining area near the Malawi Border with the port of Macuse has been the subject of a contract of a consortium made up of Mota-Engil of Portugal and China National Complete Engineering.
The new project worth $1.4 billion, will replace the existing railway of Sena (660 km) currently running to the port of Beira. As part of the increasing demand in coal and minerals in the Moatize area, the production of open cast coal has increased from 3.7 million tonne in 2012 the first year of operation to 5.5 million in 2016.
The consortium was chosen by Thai Moçambique Logistica (TML) out of a list of seven, the signing had been expected since March, and the finalization of the deal was announced by Mota-Engils with the Portuguese Securities Market Commission on last June 13
th
.
The project aims to start in 2018 and will take 44 months to complete, and it might take longer if the extension of 120 km could be envisaged in order to connect to more coal deposits.
JUNE 8, 2017
Manitou unveils its new backhoe loader at Intermat Asean
At the current Intermat Asean trade show held in Bangkok, the global company, specialized in all-terrain material handling, has presented its new model manufactured at the Terex facility located in India.
The first edition of Intermat in Asia has started today in Bangkok.
At this occasion, Manitou, which has recently acquired Terex Equipment Private Limited in India, has showcased its new model of backhoe loader, the TLB-844S. The machine has been manufactured by Terex's facility in India.
Antoine Chazelle, Vice-President Sales & Marketing of Manitou APAC (Asia-Pacific) commented: "The Manitou group is excited about presenting this new backhoe loader produced in Asia for Asian customers. We are able to offer our customers a new option, which meets their everyday construction needs. We also offer a complete range of spare parts and services. We will continue to provide more and more solutions based on listening to our customers."
The TLB-844S backhoe loader features a wide bucket on the front of the machine and a backhoe on the back that allow the operator to dig and load without changing machines. They also contribute to reduce energy consumption and increase productivity.
At the trade show, Manitou also exhibits its best-selling MTX-625 telehandler which has a small overall width of 1.81 metres allowing the operator to manoeuvre around cramped work sites.
The 180 ATJ articulated telescopic work platform, the MRT-X 1840 rotating telehandler are also on show at Intermat Asean.
Events
JUNE 7, 2017
New location for North East Line extension unveiled in Singapore
On June 7, the Land Transport Authority (LTA) has announced the alignement and station location for the 1.6km long North East Line extension (NELe) to open by 2023.
Initially planned for 2030, the LTA has decided to bring forward the NELe project's completion in order to support develoments in Punggol North area.
The LTA is willing to develop Northshore District and Punggol Point District with new residential estates as well as the Punggol Digital District, Singapore's pilot Enterprise District which includes JTC Corporation's mixed-use developments and the Singapore Institure of Technology's new campus.
The creation of new Punggol Coast station (MRT) would add a seventeeth station to the NEL comprising five interchange stations.
The objective is to enhance rail connectivity from Punggol North to the city centre and other parts of Singapore reducing travelling time by up to 15 minutes. Moreover the project is to transform the district into an attractive live-work-learn-play environment for residents, workers and students.
LTA Deputy Chief Executive (Public Transport, Policy & Planning), Mr Jeremy Yap said: "This is the first time we have used such an approach when designing a station. We envision the station to be a vibrant community hub that brings commuters together in the heart of Punggol North. Unique to the Punggol Coast Station will be more open public spaces inside the station for friends and colleagues to socialise. Those who will be working and learning within the future Punggol Digital District will be able to organise various activities at these spaces."
Tenders for the project realization are called this month in order to start construction work in the first half of 2018.
JUNE 20, 2017
Mewps Scotland, new distributor for Cela
Cela, Italian manufacturer of truck mounted and spider lift has appointed the Scottish company Mewps Scotland as a new distributor for the UK.
Mewps Scotland, specialists in Acces Solutions offers a wide range of all types of powered access equipment from the industry's leading manufacturers including Haulotte, Genie, JLG and Skyjack, whether for sales, leasing and ensure as well full products support, servicing, inspections and training.
The deal includes Cela's products range of truck mounted with working heights from 15 to 30 meters and specially focusing on spider lift DT15.
JUNE 12, 2017
Manitou Group takes majority stake in LiftRite Hire & Sales
Manitou Group has announced an agreement to take a majority stake in the LiftRite based in Perth, the historical and exclusive distributor for Manitou and Gehl products in Western Australia.
Founded in 1983 by George Hogg, Mark Manning and Ted Hirschfeld, LiftRite Hire & Sales is a leading provider of products manufactured by Manitou, Gehl, Kobelco and Kalmar. The products are rough terrain forklift trucks, hydraulic hammers, skid steer and track loaders. The company generates 12 millions in 2016 and employs more than 65 sales.
The Manitou Group is acquiring 55% of LiftRite Hire & Sales shares with a purchasing option, which assigns Manitou to increase its stakes up to 96% in three years from now. The transaction is expected to be completed before August 1
st
.
"By taking over a stake in our historical dealer in Western Australia, we reinforce Manitou's position in the mining sector, as we did several years ago in South Africa. In parallel to this long term strategic approach, we will continue to reinforce and develop all brands carried by LiftRite in all the markets served in this region" said Michel Denis, Manitou Group President and CEO.
JUNE 15, 2017
Real revolution towards sustainable drip irrigation
Toro in partnership with Revolution Plastics, has announced that its award-winning drip irrigation recycling service will now offer expanded service capabilities in California's Central Coast Region.
Toro a leading worldwide provider of innovative solutions for the outdoor environment, has ongoing commitment to help farmers maximize production with efficient, sustainable drip irrigation practices, has partnered with Revolution Plastics a national leader in agricultural plastic recycling with operations in Arkansas, Wisconsin and Texas, and now a facility in Camarillo to better serve California's coastal growers.
Farmers need drip irrigation to help them to produce more with fewer resources, but also recognizes that at the end of its lifecycle, drip irrigation becomes plastic that has to be recycled.
Toro's Drip irrigation Recycling Service has recently won nationwide recognition at the Irrigation Association's annual convention in Las Vegas, in the category of 2016 New Product Contest – Specialty Agriculture.
The recycled plastic were used to make Ecologo plastic can liners and other agriculture and construction sheeting rather than shipping recycled resins overseas, this solution creates local jobs, reduces the need for virgin resins and resulted in a sustainable business that has provided superior agricultural recycling services for over 20 years.
JUNE 9, 2017
New Soosan hydraulic drill on display at Intermat Asean
Charlotte Divet - Contributing Editor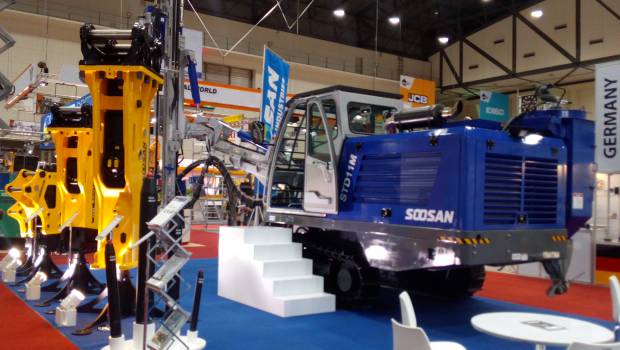 Soosan Heavy Industries, the Korean manufacturer is exhibiting its last model of hammer drill rig at the trade show of Bangkok.
The SDT 11M model is among the Soosan's drilling equipment exhibited at Intermat Asean.
It is a drill rig which has been designed to provide best performance for surface blasting in the quarry and civil work environments.
The machine includes an anti-jamming system, smooth drilling system and damping system on rock drill.
It features besides undercarriage, feed, booms and power unit that are powered by a water cooled Cummins diesel engine.
The SDT 11 M drill rig is also equipped with safe and comfortable ROPS & FOPS cabin which offers wide visibility, simple rod changing system and easy operation systems by means of joysticks.
Many options are proposed with the machine such as a pre-separator (cyclone), CAT walk and CD/MP3 player.
JUNE 8, 2017
Intermat Asean starts today in Bangkok
The first Asian edition of the trade show for construction and infrastructure has commenced today in Thailand's capital city.
The Southeast Asian trade show, real platform for the building and construction industry, is held for the first time in Bangkok.
More than 300 leading global companies are attended the Intermat exhibition and more than 10,000 visitors are expected to come during the three days.
The exhibition presents the last innovations and machines that are destined to the Southeast region of Asia.
Many conferences and demonstration workshops are to be held at the trade show.
Supported by the Thai Contractors Association (TCA), Intermat Asean is taking place at Impact Exhibition and Convention Center until the 10th of June.
JUNE 5, 2017
Biggest African wind farm to be built in Ghana
The Lekela Power joint venture comprising Mainstream Renewable Power and the investor, Actis, is developing the 225MW Ayitepa wind project in the Ningo-Prampram district.
The wind facility is to operate for 25 years with the objective to enhance the electricity supply deficit of Ghana.
Seventy-five turbines rated between 2.75MW and 3.5MW are to compose the farm that is to be constructed in two phases.
The first phase will bring 150MW capacity to the Ayitepa plant while the other phase will add 75MW.
The wind farm is to be situated in the Ningo-Prampram district, 60 kilometers east of Accra city.
It is to supply annually around 60,000 households in electricity.
A new transmission substation is to be installed in the facility to transfer the power to Ghana's National Interconnected Transmission Grid (NITS)
Construction work is to start in late-2017. Sixteen months are required to complete the project that is to generate first power in 2018.
More than five hundreds employments are to be created during the construction phase and fifty during operations.
When completed, the wind farm is to stand as the first facility of this type in Ghana and the biggest of Africa.
The wind project costs $525M.
JUNE 19, 2017
No more rail for the train?
Grace GALANTE
The first railless train in the world has been unveiled in Zhuzhou, China. With three carriages and 30 meter long, the first railless train runs on rubber tires and can move a speed of 70 km/h and can carry up to 300 passengers.
This railless train is also powered by electricity and can travel over 40 km per full charge and as it is equipped with sensors, the bullet train can read the dimensions of roads and plan its own route.
This new technology called the ART, Autonomous Rail Rapid Transit was developed by CRRC Zhuzhou Institute. As the new system is too expensive for medium-sized and small cities, only the ART in Zhuzhou city in Hunan province will be built through downtown.
The construction work of 6.5 km ART line will start in Zhuzhou in 2018.
JUNE 8, 2017
Suez wins two waste collection contracts in Australia
The global company that delivers wastewater treatment services has been awarded contracts to be in charge of waste collection and recovery in the city of Brisbane and in Parramatta, the Sydney Metropolitan area.
Suez has signed with Brisbane City Council a €600M contract to manage the renewal of the general, recycling and green waste collection in the Australian city for sixteen years.
150 Suez' new collection vehicles, featuring innovative on-board computing technology, are to be provided to allow the Council to access detailed service information on the services provided to residents and the real-time tracking of vehicles and collections.
More than 125,000 waste collection services are to be realized every day.
The contract takes effect on 1
st
July 2018.
The second seven-year contract commits Suez to be in charge of the collection of general waste, recycling garden organics and hard waste of Parramatta's 230,000 residents.
The company is also to provide thirty-three vehicles equipped with on-board computing system to give access to detailed information in real-time.
Besides, Suez is to process and recover garden organic waste of the Sydney's suburb into standardized compost in order to allow the municipality to reach 70% diversion of waste from landfill by 2018.
Suez Group Deputy Chief Executive Officer in charge of the International Division, Marie-Ange Debon commented: "We are proud to support the city of Brisbane and Parramatta in their circular economy challenges. Our teams will provide innovative and efficient collection and recovery services to support the growth of two of the major cities in Australia."
JUNE 20, 2017
USA has 100 nuclear reactors
According to the Research and Markets report, the countries such as US, France, Germany, Japan, Russia and South Korea are the largest users of nuclear power.
Besides, the regions that initiate more rapid adoption of nuclear reactors are China, India and Southeast Asia. With the new generation systems, nuclear power promise to be more efficient and safer than initial systems.
It is said that domestically, the United States has 100 nuclear reactors which supply more than 20% of the nation's electricity and this enrichment capacity complements thus, raw material uranium. Uranium market driving forces relate to the need for clean energy that is competitive with the higher priced oil product used to generate electricity. Clean energy has become a priority as pollutants cause health difficulties worldwide.
Nuclear power supplies a sixth of world electricity demand, and the market is at the threshold of significant expansion globally. Note that over half of the world's production of uranium from mines is in Canada and Australia.
Nuclear power plants can be used to generate hydrogen and any excess power from nuclear power plants can be usefully diverted to the manufacture of hydrogen. Hydrogen can then be used in co-located stationary fuel cell installations to generate more electricity.